Japan Tobacco International

Pitch work for JTI. Following an audit of the current JTI site it was deemed to be cluttered, confusing, text heavy, unfocused, busy and corporate.

The brief was for a new, clean, playful and less corporate site which would engage users, around the company's core principles which would eventually lead to the larger discussion around smoking - both in terms of under age smoking, the risks associated with smoking and the new technologies that would make smoking safer in the future.

Following two days of design research looking at a variety of well designed sites across a large number of sectors, I created a series of new principles which the site needed to adhere to.

They were clear, simple, fresh, engaging, bold and playful.

I set about creating a route across a homepage, navigation example and a content page using these new principles together with the companies existing brand guidelines.

Role - UX & UI
Agency - Radley Yeldar
Client - JTI
Year - 2016




In detail

As well as the three pages individual elements of potential components of the site were designed and animated, some static examples of which are below.
The navigation was designed to always be visible on page load, collapsing into a burger icon on scroll down.
The burger and share icons would always be visible as the site had large gutters which allowed the central content to always be bordered by the logo and menus.

On press, the menu would open up to fill the screen with ample space given to explaining each area of the business.





Search was integrated into the main menu. Popular and recent searches would be highlighted with promoted (or most read) articles being promoted on the right.





The "Have your say" input area would stick to the right of the browser on scroll down, on some lower level content pages, so users could easily read comments and still reply quickly.





Interactive maps would highlight key business locations and provide both contact details and geographically related tweets.





Some areas of the site would be easily shared to social channels with a dynamic share button which could house a range of channels.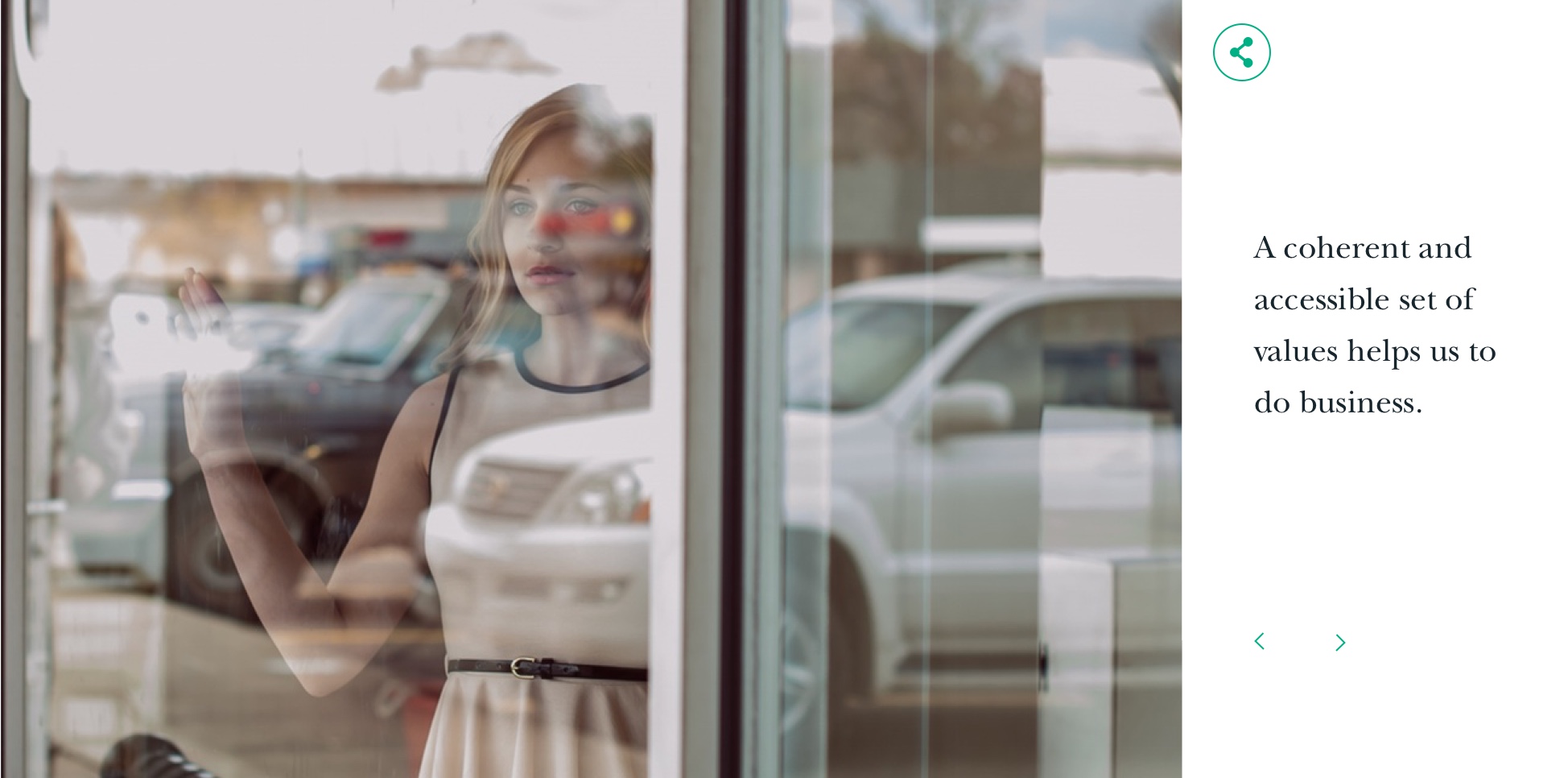 Part of the content strategy was to gauge peoples opinions about which of the core JTI principles were important to them. For example, perhaps the Sustainable Growth principle was more popular in Asia then it was in Europe. Based on the results, content would be tailored for each market.





User engagement was also high on the list of improvements to the site, with this component, in particular, being able to dynamically provide statistics and related content to users based on their answer to a question.



Likewise interactive graphs would ask users to challenge what they thought about nicotine.